The Passchendaele Museum presents the historic story of the First World War in a poignant and vivid way, with a particular emphasis on the Battle of Passchendaele. This battle in 1917 is known as one of the most horrific battles from the First World War, with almost 600.000 casualties for a movement of the frontline of merely 8 kilometers. 'Passchendaele' not only became a concept in the history of the First World War, it also became a symbol of the great futility of the violence of war in all its horror.
Discover and experience the story of the First World War and the Battle of Passchendaele in the interactive design of the museum. Using historical objects, authentic letters, posters and other documents, uniforms of the various armies and video clips etc. both young and old get an insight into how life must have been on and around the battlefields.
Descend into the dugout and discover how the British went to live underground in 1917. The visit concludes at the faithful reconstruction of German and British trenches, along which original shelters have been replicated. Experience the terrifying feeling that befell the soldiers when they were 'imprisoned' here.
An intense visit that will only enrich your knowledge of the battle sites in the area.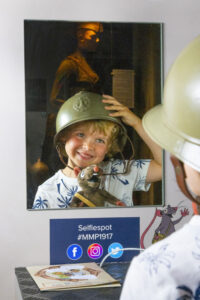 Family friendly parcours
The youngest visitors can go explore on their own with Lisa, her nephew Louis and their little friend Maurice. Lisa and Louis visit their grandfather, who collects WOI stuff in the chateau of Zonnebeke.
Maurice takes the children on a discovery tour of the museum with the help of a folding map. Along the way, they carry out fun assignments.
After your museum visit
The Passchendaele Museum is located in the chateau grounds of Zonnebeke where you can stroll around the pond, the eight poppy-shaped Memorial Gardens, the eight metres high pou maumahara (Maori sculpture), the church tower of Zonnebeke … Right next to the museum, you can take the adventure trail (1.9 km) to discover the chateau grounds in a fun and active way by using pedestrian bridges, tree trunk stepping paths and ropes courses.
From the museum you can take various walking and cycling routes to discover the surroundings. As an 'open museum', the Passchendaele Museum establishes the link between the historical facts and the landscape. Important sites are the Polygon Wood, the many bunkers and the Tyne Cot Cemetery, the largest Commonwealth cemetery in the world.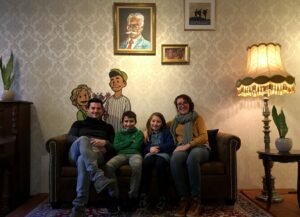 Ready for a trip with the family to the Passchendaele Museum?