Become a member of the 'Passchendaele society' and commemorate the Battle of Passchendaele and its more than 600,000 casualties.
Your membership testifies to your engagement with the ongoing commemoration of the many victims of the Battle of Passchendaele, your desire to see their story told now and in the future. As a Passchendaele Member, you show that you have confidence in what we do and in our core values: 'Experience. Reflect. Remember.'
We offer you various ways of helping us to create awareness and involvement with the story of 1917: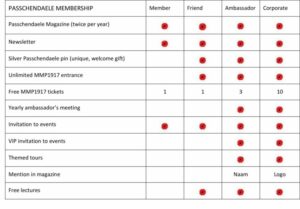 The Passchendaele Membership is valid from 1 January until 31 December.