On Saturday 14 October the Memorial Museum Passchendaele 1917 and the municipality of Zonnebeke, with support from Toerisme Vlaanderen, organised 'Silent City Meets Living City' at CWGC Tyne Cot Cemetery. All the graves and names on the Tyne Cot Memorial were symbolically illuminated during this unique reflection moment with music, light, actors and personal stories. More than 7,000 people were present to remember the victims of the Battle of Passchendaele.
Important role for youth
'Silent City Meets Living City' is not a classic commemorative ceremony but a serene sound and light show in which more than 250 musicians and actors participated. The reflection moment started with a serene soundtrack during which about 100 people acted as the refugees and soldiers of 1917. A lot of children were also acting as refugees. A lot of youngsters participated in 'Silent City Meets Living City'. A choir of 65 youngsters and two guitar players brought an acoustic version of 'Passchendaele' bu Iron Maiden. Two children from Passchendaele read the Ode of Remembrance and after the reading of letters from the 'Passchendaele Archives', boys and girls from each school of Groot-Zonnebeke laid flowers.
1917 versus 2017
Not only the participation of the youth was important during the reflection moment. The confrontation between 1917 and 2017 as also highlighted. Similar pictures taken in 1917 and 2017 were shown on big screens. Six actors also symbolised the situation in 1917 and 2017. Four of these actors were the people in the campaign image of 'Silent City Meets Living City'. The little girl and soldier placed big candles on the Cross of Sacrifice whilst the music of the campaign movie played. After that more than 7,000 people raised their small candle for minutes. The reflection moment ended with the song 'On the road to Passchendaele', performed by a singer, saxophone player and pipers.
'We never told people exactly what was going to happen during 'Silent City Meets Living City'. We wanted to create special moments to make people aware that it is necessary that we never forget. Although there were more than 7,000 people present, it was extremely quiet. That silence was very impressive', says Debbie Manhaeve, project coordinator MMP1917.
'We often visit the CWGC Tyne Cot Cemetery and we only know it by its countless gravestones. Yesterday we discovered a complete other place, full of living people standing in front of these gravestones. We had another perception of what is called 'giving your life for liberty'. This moment of sympathy and reflection stays etched in our memory, just like the names of these brave soldiers, such as our grandfather, who have been honoured during last night's ceremony. We experienced a unique moment in our life', say Pierre and Elizabeht Rouvillois, relatives of Corporal George Frederick Warwick.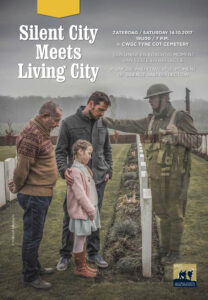 This picture has the copyright of Wilfried Manhaeve. The Memorial Museum Passchendaele 1917 asked him to create this picture for the reflection moment 'Silent City Meet Living City'. The people in the picture gave their permission to use this picture only for this reflection moment. As of the copyright and the privacy rules, this picture may not be used for any other content or by other parties without the permission of the photographer, the four people in this picture and the Memorial Museum Passchendaele 1917.